Better Serving Rural Customers with FastGrind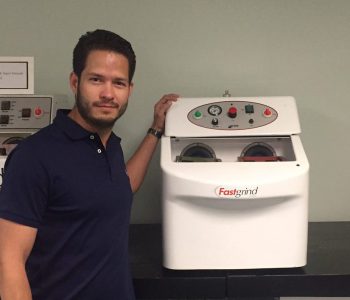 Marco Robles, MD, a doctor at Opticlinica Robles family practice, knew he needed to make a change in his practice to better serve his customers and keep his profits from literally walking out the door. One of the big challenges Robles faced is that, being in a rural area, 70% of his customers were traveling long distances for their eye exams at his office. Using a traditional lab meant these same people would have to return once their finished glasses were ready which resulted in 40% walking out without buying anything
Hoping to lower this number, Dr. Robles began to look at alternative options which led him to FastGrind. He decided to put his outside lab and the FastGrind System to the test by ordering the same prescription with his lab using a premium progressive (Viralux 360 with Transition) as he made in-house with FastGrind's ADDvantage Plus lens with Conversion photochromatic. The result? The outside lab took weeks to make it and charged $450. With FastGrind, he had finished glasses within an hour that cost 80% less than the name brand. When comparing the two lenses, it was clear that he didn't have to compromise quality for speed and cost savings.
"I want every customer to walk out of my shop with great vision in a comfortable lens. They trust us to recommend the best options and VisionAir provides them with the quality and speed they deserve in a price point they can afford," Dr. Robles shares, "I have always been very skeptical about offering anti-reflection on lenses. Many of my clients are rural farmers and they are very hard on their lenses. I had tried other AR coatings and they never held up, but after trying FastGrind's ClARity AR I recommend it to nearly everyone because its proven to hold up in nearly every environment."
After implementing FastGrind in his practice, Dr. Robles saw a complete transformation. The previous 40% who walked out without making a purchase went down to less than 10%. He was also able to expand his market size because of the faster service. People were willing to travel further distances for an eye exam because they knew they could get the service they needed all in one visit. 
  -Dr. Marco Robles, Opticlinica Robles, Honduras