Dr. Gregory Lowe Reflects on 10 Years of FastGrind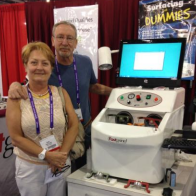 "Our office, Nassau Sight Centre in the Bahamas, has owned the FastGrind system for 10 years now and we love it! The customer service has been fantastic! Our questions and needs are handled quickly and in a very friendly and personal way. We have had no maintenance issues, as our FastGrind machine has not broken down once in those 10 years; it is very reliable.
Their staff went through the training with us over the phone, we watched the instructional video, and we were able to start surfacing our own lenses within an hour. It was unbelievable how fast and easy it was to learn.
Prior to purchasing the FastGrind we had a casting system. It was very messy and difficult to learn and use, not to mention we could not make lenses as quickly. Once we discovered FastGrind, we never looked back. It is faster, cleaner, and offers a greater lens selection and prescription range. 
Our savings have been fantastic as well, because we can do so much more in the office now than we could before. The ADDvantage digital progressive is a great design and allows us to make so much more profit on each sale. Our patients rave about the optics and how quickly they adapt to the design. 
Many instruments we buy are obsolete after 10 years, but Super Optical keeps us current through software updates. After 10 years we are still very satisfied with our FastGrind system and we wouldn't consider using anything else again."
  -Dr. Gregory Lowe, Nassau Sight Center, Bahamas